Have you kept your New Years Resolution of shedding some pounds? Or have you already thrown in the towel two months in (like us)? Maybe you need a little convenience  to get you sweating. Here's a list we've compiled of area gyms and studios that will take care of your little one(s) so you don't have to worry about them climbing on your back while you do a downward dog. This list should help you achieve your healthy goals this year. All you have to do is find the gym closet to you and sign up! Let us know if we can add a gym to the list that you know has childcare.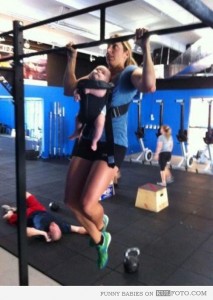 Barre3– 1000 Wisconsin Ave NW Suite G-100 Washington, DC 20007
and 4900 Massachusetts Ave NW, Suite 105 Washington, DC 20016
Childcare starts at the age of 6 weeks and goes up to age 8. Reservations are highly recommended and you can do so online. Childcare is available for many of the classes during the week and on weekends but not all. The cost of childcare is $5 per class or you can purchase a 10-pack for $45.
Equinox– 4905 Elm Street Bethesda, MD 20814
This is a luxurious gym with many amenities. The Kids' Club is the ideal place to drop your tots while you work out. The space is bright and inviting. It is available to children ages three months and older. Appointments and drop-off services are available. Price is $10 per child 2 hours. Hours vary Monday-Saturday.
Healthtrax– 20500 Seneca Meadows Parkway Germantown, MD 20876
This gym is in partnership with Suburban Hospital and is well maintained. You can pay per visit or get a Family Membership that includes childcare. Kidszone is available for babysitting kids until they are in 1st grade and then they can begin to take classes designed for children.

LA Fitness- 8616 Cameron St. Silver Spring, Md. 20910
Thanks to reader, Amy for letting us know LA Fitness has childcare. $10/month or $5/hour. They take children 3 months and older.
Life Time Athletic Fitness- A family oriented environment. The Kids program encourages healthy activities and playing for for child. Available for children ages 3 months to 11 years old. They also offer classes for children. 
1151 Seven Locks Road Rockville, MD 20854
9602 Main Street Fairfax, VA 22031
1757 Business Center Drive Reston, VA 20190
7220 Lee DeForest Dr. Columbia, MD 21046
5900 Trinity Parkway Centreville, VA 20120
44610 Prentice Drive Sterling, VA 20166
Lil Omm– See details online
Local Motion– 2377 South Dove Street, Alexandria, VA 22314
Local Motion offers yoga, Pilates, pregnancy, barre and more. They also offer classes for children. Childcare is available  and is staffed by qualified, nurturing professionals.  The room is set up with a preschool setting in mind.  There are safe places for babies, and all toys are safe for all ages. Children welcome ages 6 months to 8 years. 10-pack: $50 or Drop-in: $7
Mint Dupont– 1724 California St. NW, Washington, DC 20009
Childcare begins at 4 months and goes up to 11 years old. The childcare hours vary and is available 7 days a week. Mint offers three options for childcare; free with a Family Membership, $10 per child, per visit, or lastly you can add to your individual membership for an additional $30/month for unlimited childcare. The maximum time limit they will watch your child is 90 minutes per day. Be aware though of their policy; "MINT staff may not change diapers.  Parents will be notified when a diaper change is needed.  For kids who are potty trained, we will alert the parent of the need when it arises."
Results, The Gym– 315 G Street, SE, Capitol Hill, 20003
Upon asking about their childcare services we were given 10 different time frames childcare was available. It's safe to say the hours and days vary! They will watch children 3months-11 years old, $4/hour, $6/90 mins and 2 hours maximum. Staff is CPR-certified and they maintain a 7:1 child-to-staff ratio. 
Rock Creek Sports Club– 8325 Grubb Rd. Silver Spring, MD. 20910
For members, they offer a low, monthly rate so you can maintain your fitness goals by visiting the club as many times as you wish with your kids. They allow you to keep your child in the childcare room the longest; 2 hour and 30 minutes. Which allows you plenty of time to take your favorite class, workout, AND shower. Babysitting is for children ages 6 weeks to 8 years old, and reservations are not required.
Bethesda Sport and Health– 4400 Montgomery Avenue Bethesda, MD 20814
Sport and Health: Northwest- 4001 Brandywine St NW $10/hour
Rio Sport and Health– 9811 Washingtonian Blvd. Gaithersburg, MD 20878
The Sport and Health locations above offer childcare for children beginning at 3 months. They have some locations with a separate area for infants and older children. Most are complete with cribs, swings and toys. After getting the run around from many employees, we think we finally found a set price; a whopping $1 per child per hour. They recommend calling 24 hours ahead of time to reserve a spot.
Sportfit– 100 Whitemarsh Park Drive Bowie, MD 20715 (Locations in Laurel and Severna Park as well)
Thanks to reader, Jennifer for letting us know about Sportfit. They offer child/family memberships (basically discounted rate per family member.) 2 hours of childcare per day, plus free kids fitness classes and free 3 hour drop off childcare (Parent's Night Out) on the 1st Saturday of the month.
Sports Club/LA– 1170 22nd St NW, Washington, DC 20037
A club within the club "For Kids Only". 6 months to 12 years old. Reservations required 24 hours in advance. Hours vary seven days a week. Costs also vary depending on whether it's a drop in $15/hour, hotel member $18/ hour or member paying per hour $10. The area is large and has very nice indoor play equipment and toys.
The Women's Club- 14175 Sullyfield Cir., Suite 100 Chantilly, VA 
Childcare is available 7 days a week with no reservations required. Put your mind at ease and enjoy quality time exercising while your children play and learn in an exciting and safe environment. Educational and creative crafts are offered daily. These activities and services are available for children 8 weeks to 12 years. They have a separate room for infants and they will change diapers for children 3 and under. They charge $5 for one child, $4 for an additional child or they offer unlimited access for $9.50 bi-weekly for one child and $5 bi-weekly for an additional child.
The Yards Vida Fitness- 1212 4th St SE, #170, Washington DC
Washington Sports Club is one of the older clubs in the area and in turn has many locations, most have childcare options (see list below) for children ages 3 months-10 years old. Contact each club individually for hours and prices.
Columbia Heights– 3100 14th Street, NW, Washington, DC 20010
Georgetown– 3222 M Street NW, Suite 140 Washington, DC 20007
Bethesda– 10400 Old Georgetown Road Bethesda, MD 20814
South Bethesda– 6828 Wisconsin Avenue Bethesda, MD 20815
Silver Spring– 901 Wayne Avenue Silver Spring, MD 20910
Alexandria– 3654 King Street Alexandria, VA 22302
Clarendon– 2800 Clarendon Boulevard Arlington, VA 22201
Fairfax– 11001 Lee Highway Fairfax, VA 22030
West Springfield– 8430C Old Keene Mill Road West Springfield, VA 22152
XSport Fitness- 4300 King St. Alexandria, Va.22302
Your child can rock climb, play with interactive toys and even watch videos. While you work out you can also watch your child on closed-circuit TV's. Childcare included in membership. Locations in Falls Church, Arlington and Woodbridge as well.
YMCA Anthony Bowen– 1325 W Street, NW, Washington, DC 20009
With a membership comes free Child Watch for children 8 weeks-age 4. Hours vary Monday-Saturday. If your kids are older than 4 you can sign them up for Cool Kids Club for a low fee. Children may be left in both for up to 2 hours per day.
YMCA Alexandria– 420 East Monroe Avenue, Alexandria, VA 22301
With a membership comes free Child Watch for children 8 months-age 5. Hours vary Monday-Saturday. If your kids are older than 5 and younger than 10 you can sign them up for Kids Zone for a low fee. Children may be left in both for up to 90 minutes.