It's snowing….again! Need a place to escape indoors for the next few days? Here are a couple of places that are sure to make your child happy and get some exercise while it's still too cold to be outside. They are all in Virginia….Maryland folks, it'll be worth crossing the bridge for these not so typical gyms and indoor spaces, we promise! Call before heading there to make sure they are open during the snow.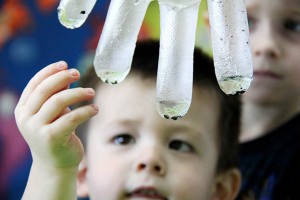 Animated Child– 5167 Waterway Drive Montclair, VA 22025
A Hands-On Exploration Center that is based on  Gardner's Multiple Intelligences Theory. Allows children ages 2-12 an opportunity to discover what intelligence or "Smarts" they are. Go find out your child's natural interest and highlight their unique way of learning. Animated Child believes talent and skills should never go unused. Open exploration times, enrichment classes, summer camps and birthday parties are available.
Great Play–
11395 Government Center Pkwy, Fairfax, VA 22030
12140 Amos Lane, Fredericksburg, VA 22407
A gym unlike any you've been to with your bambino. During each class, through age-appropriate skills kids turn practicing skills into play through unique games in an Interactive Arena. They offer a variety of classes much different from your typical gym. They offer motor skill and introduction to sports, a Zumba class and a Play 50 class that sounds like Field Day meets Birthday party all in one class.

Sprout at Saffron – 3260 Wilson Blvd., Arlington, VA 22201
The ultimate new business concept that combines your productivity, relaxation, fitness or yoga with your kids playing and learning.  Moms, dads and caregivers can catch up on work or relax in the cafe, take a fitness or yoga class while your kids are taken care of in a holistic and educational environment.  Classes vary from supervised open gym, music, ballerina classes and more! Classes are also offered for kids or adults.