Holidays are a time for creating memories, whether it be continuing a family tradition or beginning new ones. I've been lucky enough to go to a few high teas, my favorites was at The Plaza Hotel in New York with my best friend followed by a Holiday Tea at the Willard Intercontinental with family. My daughter is still too young to go to a holiday tea; we've got a few more years. For those of you looking to take your Bambinos or go without kids here's a list of some places in our area that you can enjoy some tea and crumpets.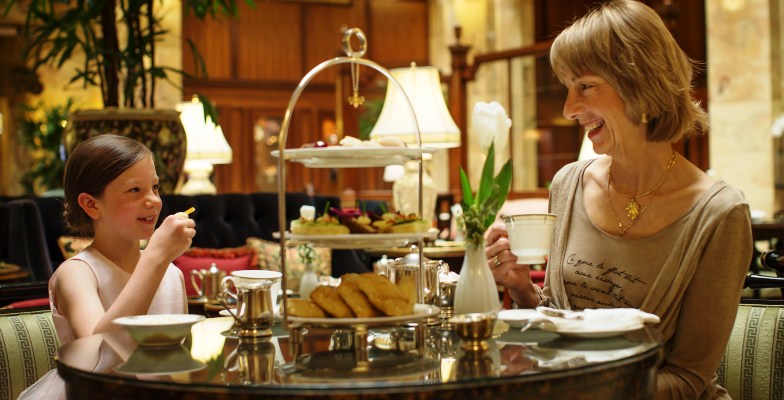 (Photo: Minitime.com)
Attached to Tysons II with lots of festive décor. Served Friday to Sunday, 12 p.m. to 4 p.m., as part of the regularly served Afternoon $36 per Person (for our guests under age 12)
They offer a Kids afternoon dessert tea as well as high tea.

Join in December for Holiday Afternoon Tea, one of The Willard's most cherished holiday traditions. Seated in the grandeur of Peacock Alley, among the festive decor and elegant sounds of the live harp, guests can enjoy a tantalizing array of festive teas, sandwiches and pastries. Holiday Afternoon Tea is offered daily from 1 p.m. to 4 p.m. throughout December, excluding December 24, 25 and 31st. Reservations are required.
Every Saturday afternoon in December: $38 per child 4 to 12 years of age, children under 4 years of age dine for free. See menu online
The soothing sounds of local musicians fill the room, as you enjoy Afternoon Tea in the cozy atmosphere of The Shapiro Music Room at Strathmore. They do hold special events around various holidays so check their schedule to plan ahead.

Saturday & Sunday afternoons they have an expansive tea service but also have a "Teddy Bear Tea" which is $16 per person, Selection of Children's Tea Sandwiches, Sweet Plate-Pastry Chef's Choice of the Day and Hot Chocolate.
Not holiday specific, however afternoon tea is served on Sundays. Seating is limited, so reservations are encouraged.
Has many tea inspired events you can sign your kids up for.
Enjoy a special dining experience with a variety of dainty tea sandwiches and assorted sweet treats.
Your tea service also includes a pot of hot cocoa or tea. Afternoon Tea and Craft — served weekdays, 2 p.m. — 4:30 p.m.
Situated within Tyson Corner I mall with access to Santa, an ice skating rink, Pottery Barn Kids, the Disney Store and over-the-top holiday decorations! Great value for the price!
Hotels that offer tea service (not necessarily holiday themed)