Bring your blankets or chairs (check websites for what they prefer), some snacks and cozy up to a summer movie outside. Disclaimer: This is a list of child friendly and adult friendly movies. As you will see some of these don't begin until sunset so perhaps it's a late summer evening for some kids or a date night for parents. Have fun watching some free movies this summer.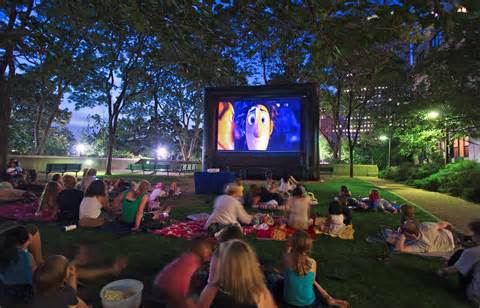 Bethesda Outdoor Movies
(Woodmont Triangle, Corner of Norfolk & Auburn Avenues)
Enjoy five nights of blockbuster hits at downtown Bethesda's 11th annual outdoor movie series! Show times begin at 9pm. A limited number of chairs will be provided and attendees are invited to bring their own lawn chairs. Admission is FREE!
July 26: Pretty in Pink
July 27: Manhattan Murder Mystery
July 28: Brooklyn
July 29: My Big Fat Greek Wedding
July 30: Creed
Union Market Drive-In
(1309 5th Street NE  Washington, District of Columbia 20002)
The Union Market Drive-In is back! Join us on the first Friday of every month in July through October! The lot will open at 6:00pm and the movie begins at 8:00pm. There is a $10 parking fee, but the event is free for walkers/bikers. For Tickets, click here.
July 1: Top Gun
August 5: Ratatouille
September 2: Grease
October 7: Ghostbusters
Movie Nights in the Heights
(Harriet Tubman Elementary School)
Join us on Friday, June 24th for the final installment of our June series of "Movie Nights in the Heights".
The gates open at 5:30pm. We will have games and activities for guests to enjoy together before the movie from 6pm to 7:30pm. Feel free to bring a picnic. The movie will begin at sundown. We'll be screening Minions. Come and join us for a night of fun!
NoMa Family Film Night

(plaza at NoMa Junction @ Storey Park – 1005 First Street, NE)
Now in its fifth year, the NoMa BID is proud to present Family Film Night, where families and children gather for free family-centric movies (also fitting the 'Choose Your Own Adventure' theme). Family Film Night will take place on the third Tuesdays of each month. Movie starts at sunset.
June 21: Home
July 19: Up
Aug 16: Zootopia
Adam's Morgan Movie Nights
(18th and California Street Washington, D.C. NW 20009- Marie Reed Field)
Movies begin approximately 30 minutes after sunset. All movies are on Tuesday nights on the soccer field at Marie Reed School.
Friends of Harrison Park
(Harrison Field on V St NW between 13th & 14th)
Gates open at 7:00pm. Free movie begins at dark.
Jul 20: Life of a King
Aug 17: Pee Wee's Big Adventure
Sept 17: Family Fun Day/Finding Nemo
Sept 21: The War Room
Four Mile Summer Movie Festival at Four Mile Conservatory Building
(4109 Mt Vernon Ave, Alexandria, VA 22305)
Movies begin at dusk (around 8:00) and have Spanish subtitles, bring  blanket or chair. Admission is free, so is popcorn and drinks. Presented by National Community Church.
June 24: The Goonies
July 29: Back to the Future
Aug 26: Zootopia
NoMa Summer Screen
(Storey Park Lot- 1005 First Street, NE)
For adults, check out NoMa Summer Screen for Date Night Movies. NoMa Summer Screen is a free, 13 week outdoor film series in NoMa, Washington, D.C.'s most connected neighborhood. Every Wednesday bring your friends, family and neighbors for music, giveaways, food trucks, picnicking, and of course, great films under the stars. The 2016 NoMa Summer Screen theme is "choose your own adventure". Movies start at dark and are screened with subtitles. We encourage moviegoers to bring chairs, blankets, Frisbees, and picnic coolers to connect with friends and neighbors starting at 7 PM.
June 29: Fast Five (PG-13)
July 6: Pee Wee's Big Adventure (PG)
July 13: Life of Pi (PG)
July 20: O Brother, Where Art Thou? (PG-13)
July 27: E.T. the Extra-Terrestrial (PG)
August 3: Apollo 13 (PG)
August 10: The Hunger Games: Catching Fire (PG-13)
August 17: Jurassic Park (PG-13)
Movies on the Potomac at National Harbor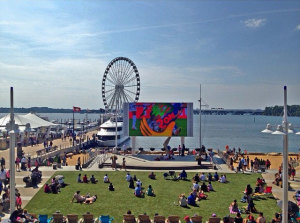 (165 Waterfront St National Harbor, MD 20745)

Nothing says summer like an evening under the stars—and there's no better way to enjoy the season than Movies on the Potomac at National Harbor. Pack your picnic blankets, grab food to go from one of our delicious dining establishments, and meet us at the Plaza's big screen for a FREE evening of fun for all ages! Please note that movies will begin at 6:00pm and will be shown once, so end times may vary with each movie. A schedule of movies to be shown can be viewed below. They also feature Date Night Movies on Thursdays at 7:00pm.
6/26 Minions [PG]
7/3 Surf's Up [PG]
7/10 The Smurfs [PG]
7/17 Honey, I Shrunk the Kids [PG]
7/24 Brave [PG]
7/31 Online movie poll
8/7 Cars [G]
8/14 The Karate Kid [PG]
8/21 Hook [PG]
8/28 Cool Runnings [PG]
9/4 Tomorrowland [PG]
9/11 Wreck it Ralph [PG]
9/18 Zootopia [PG]
9/25 Online Poll
Cinema Del Ray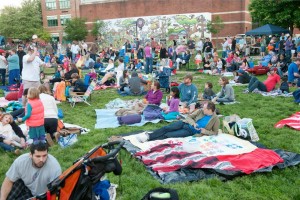 (Mount Vernon Rec Center: 2017 Belle View Blvd, Alexandria, VA 22307) 
The fun begins at 7:00pm. Free open air movie showings sponsored by Jen Walker. Snacks are even available for purchase, bring blankets and cozy up. (No 4 legged friends)
July 16: Toy Story
Aug 20: Aladdin
Sept 17: Kung Fu Panda 3
Canal Park
(Canal Park, at 2nd and M St., SE- Navy Yard Metro)
See the stars beneath our stars! The Capitol Riverfront Outdoor Movie Series returns to Canal Park this year from June through August. Each movie in this year's lineup, selected and inspired by public demand, will begin at sundown. We invite movie-goers to arrive at Canal Park as early as 7:00 pm, bring a picnic, and enjoy the show!
Has not been updated on their sites for 2016 yet–
Crystal Screen

(1851 S Bell St Courtyard, Arlington, VA 22202)
The Crystal City BID hosts a free outdoor film festival every Monday in the summer. With the help of Moonflicks, a courtyard in Crystal City is transformed into a movie theater. There is no better place to meet friends, bring a picnic, and enjoy an evening under the stars. Your mission, if you should choose to accept it, is to stop by the International Spy Museum table for ticket giveaways, swag dead-drops, and a Codebreaker Challenge before select movies.
Movies on the Square
(Rockville Town Square) Movie begins around sundown/8:30pm. Bring a lawn chair and family and friends and join us under the stars for some of our favorite blockbusters.
Sunset Cinema
(Cherry Hill Park: 312 Park Ave. Falls Church, VA 22046)
Moviegoers are encouraged to bring blankets and picnics. Drinks, popcorn and snacks will be available for purchase.