I can't count the number of times our son wore his "Max" costume from Where the Wild Things Are. Between parades, school, special celebrations and on Halloween he got lots of practicing saying, "Let the wild rumpus start"! Here's a guide that will help your child get mileage out of their costume(s) this year. Of course, check out our guide to Festivals and Orchards, as many of them have a special Halloween celebration as well as their day-to-day happenings. DC Library also will have a variety of Halloween celebrations, including Haunted History & Ghost Hunts!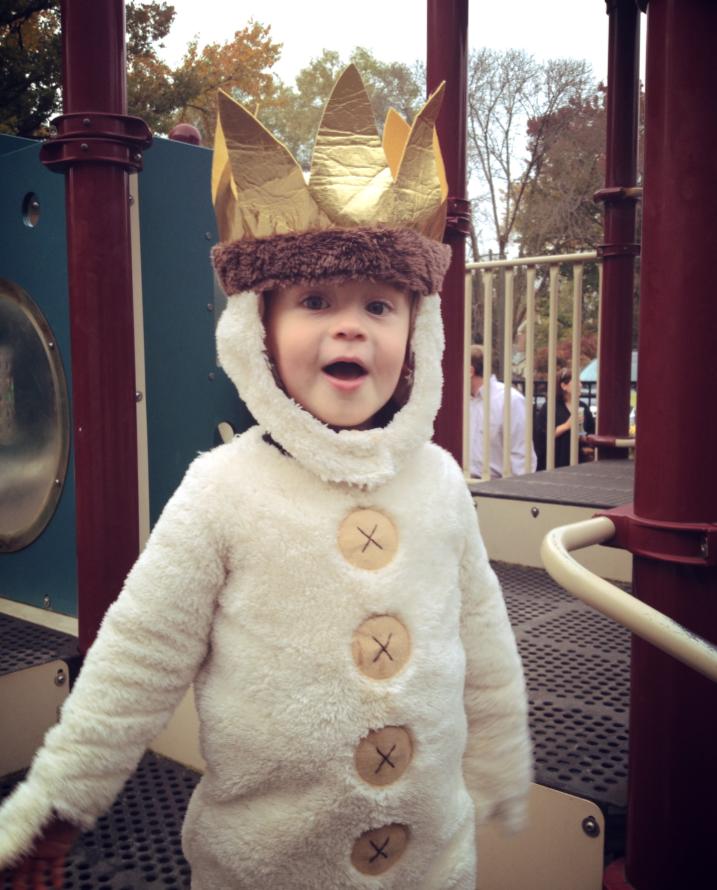 *Events are listed in order of which they occur to help you plan
Oct. 8-9, 14-16 and 21-23 and Oct. 28-30- Wheaton Haunted Train and Creepy Carousel
If you enjoy heart-racing, adrenalin-pumping, throat-constricting Halloween activities, we have a train (and carousel) for you. Who–or WHAT?–lurks in the dark Wheaton woods as you ride the Haunted Train? And what's that perched on the ghostly horse silently screaming next to you on the Creepy Carousel? We promise to do our very best to scare the pants (metaphorically speaking) off you. We'll show free frightening movies, and have snacks for sale, too. Purchase tickets online.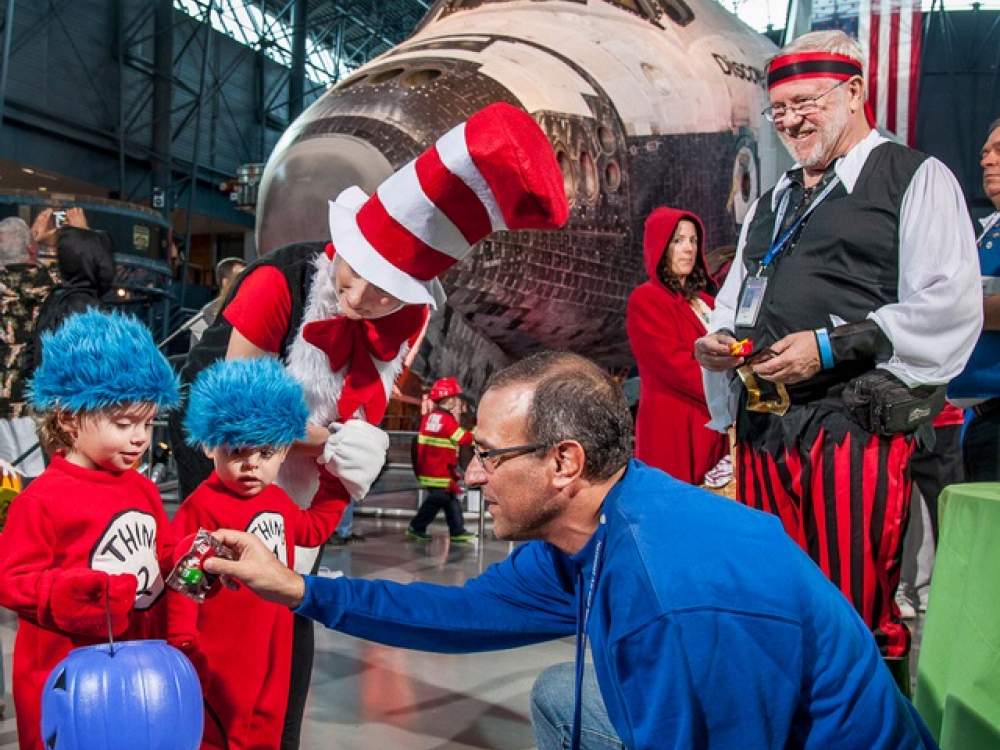 (Photo: Air and Scare at National Air and Space Museum)

Oct. 8-9, 14-16 and 21-23 and Oct. 28-30- Eye Spy Train at Cabin John Regional Park
Looking for something fun to do this Halloween that won't give your younger kids nightmares? Ride the "Eye Spy" Halloween Train at Cabin John Regional Park! Your kids will have fun looking for familiar friends and animals hiding in the woods and marking them off their "Eye Spy" card, while you sit back and enjoy the ride! A not-so-scary train for kids under 8. Purchase tickets online.
Oct. 13– 6:00pm-7:00pm & 7:00pm-8:00pm- BOO-stravaganza at Frying Pan Park
Come to the Indoor Arena Barn dressed in your favorite costume. Enjoy fun, games,and a wagon ride. Finish the evening with treats and a small pumpkin. Reservations required.
Oct. 13-16– NSO Pops: Cirque de la Symphonie: Halloween Extravaganza at The Kennedy Center
They're back by popular demand! Spooky fun abounds as Cirque de la Symphonie wows with sensational acrobatics and powerful music in a new Halloween-themed spectacular. Bring the whole family for this breathtaking and lively high-flying display.2 hour show, purchase tickets online.
Oct. 14– 6:00pm-9:00pm- Spooky SPY Family Night at International Spy Museum
Ditch your Halloween costume and change your whole identity! Has your brother been spying on you? Is grandma really a secret agent? Does dad really have lethal ninja skills? Now's your chance to find out as your family of spies gains exclusive afterhours access to the Museum! Test your family's spy skills as you run top secret missions, go deep undercover and transform your appearance with the help of professional make-up artists, challenge yourself in Code Cracker competitions, explore all forms of spy tradecraft, and enjoy SPY snacks. Come in disguise as your favorite spy! Ages: 5 and up (one adult required for every five KidSpy agents)* Space is limited—advance registration required.  *Includes exclusive after-hours admission, SPY snacks, scavenger hunt, prize competitions, and more!
Oct. 21-23– 5:30pm-8:30pm- Boo at the Zoo

Boo at the Zoo is Washington DC's favorite Halloween treat. With more than 40 treat stations, animal demonstrations, keeper chats, and decorated trails, this frightfully fun evening is a treat for the whole family. An entertainment stage will feature magicians, jugglers, and a DJ spinning Halloween favorites. Don't miss a themed scarecrow field. Purchase tickets.
Oct. 21-22 & 28-29 (Various Times)- Soul Strolls in Congressional Cemetery
If they could still speak, what do you think they would say? Over 65,000 individuals are laid to rest in Congressional Cemetery. From Congressman to carpenters, suffragists to bootleggers, each resident has a unique story to tell. Soul Strolls, the Cemetery's annual twilight tours, explore these stories through guided tours and costumed interpreters.  Typically only open from dawn to dusk, this special event allows nighttime access to the public. Don't miss out on this exclusive experience unlike any other Halloween tour! Hour-long tours depart every 15 minutes between 6 and 9 pm, and beer, wine, and cider will be for sale. Tickets
Oct. 22– 11:00am-3:00pm- FALLoween at Market Commons
A day of fun the entire family can enjoy! Immediately following the conclusion of the Howl-O- Ween dog walk (10:00am), FALLOWEEN will kick-off with live music and strolling characters. The much-loved petting zoo will return as well as face painters, balloon artists, and a FALLOWEEN photo opportunity. Live children's entertainment by Rainbow Rock and Mr. Knick Knack!, a petting zoo, face painting, pumpkin decorating + crafts for kids, and a trick-or-treat session throughout the property.
Oct. 22–11:00am-5:00pm- Air and Scare at National Air and Space Museum (Virginia Location)
Explore the spooky side of air and space at Air & Scare, our annual Halloween event at the Steven F. Udvar-Hazy Center in Chantilly, Va. Participate in creepy crafts, spooky science experiments, and other Halloween-themed activities. Arrive in costume to get into the Halloween spirit and enjoy safe indoor trick-or-treating.
Oct. 22 & 23– Fall Harvest Family Days at Mount Vernon
Mount Vernon celebrates the autumn season with Fall Harvest Family Days! The entire family enjoys autumn activities including wagon rides, wheat treading in the 16-sided barn, 18th-century dancing demonstrations, a straw bale maze, farrier (blacksmithing) demonstrations, corn husk dolls demonstrations and early-American games and music.
Oct. 23–10:00am-  Pumpkin Decorating at Tregaron Conservancy
Come and get crafty with pumpkins and enjoy the season at Tregaron! Meet us at the Conservancy's Lily Pond near our Klingle Road entrance, just east of the corner of Klingle and Woodley Roads. Please consider making a donation at the event (we suggest $10 per pumpkin) to help us continue offering events at the Conservancy. We encourage you to bring some of your own craft materials as well. Extras will be donated to SCRAP DC, a non-profit thrift shop promoting sustainability through re-use of arts and crafts supplies. Register online.
Oct. 23– 12:00pm- Harbor Halloween
Join us for our annual Harbor Halloween! 12pm – 2pm Trick-or-Treat at participating stores and restaurants
12:30pm Hocus Pocus 2:15pm The Black Dog's Howl-oween party and Paw-rade 2:30pm Chef pumpkin carving contest. Be sure to stop by the Plaza for DARCARS "Trunk or Treat!" Pick up your complimentary DARCARS trick or treat bag*. Plus, enjoy special activities, including pumpkin decorating, a Halloween coloring station, and a fabulous family fall themed photo station.
Oct. 23 & 29 & 31– 8:00pm & 9:00pm- Ghost Tours at The National Building Museum
Ghost tours at the National Building Museum combine history, humor, and several hair-raising tales into a fun evening. Constructed between 1882 and 1887, the Museum's historic home was formerly the Pension Building and was frequently visited by war veterans. The National Building Museum collection houses many artifacts related to the building—plans, drawings, and tools—as well as some objects that defy easy explanation, including a collection of shoes found underneath the foundation, believed to have been buried to ward off evil spirits, and a plaster mask, thought to be a death mask dated from the late 1800s. Our building is spectacular, and eerie, with the lights out.  Ghost tours are recommended for ages 10 and up.
Oct. 28– 5:30pm-7:30pm- Hilloween at Eastern Market
Capitol Hill celebrates Halloween as a community each year in front of Eastern Market on 7th St. Count on moon bounces, hay rides, treats, face painting and many, many costumes.
Oct. 28– 7:00pm-9:00pm- Haunted Hangar at College Park Aviation Museum
Wear your costume and join in the Halloween fun at the annual Haunted Hangar event. Arts, crafts, hayrides, and spooky fun are waiting for kids and families. $5/per person.
Oct. 29– 10:00am- John Henry at Avalon Theatre
For the twelfth year, John Henry brings his playful musical style to the Avalon for our annual Halloween concert party. Children are encouraged to come in costume (adults too!) and sing and dance along during the show! Treats will be distributed afterwards.
Oct. 29– 10:00am-12:00pm- Trick or Treat at Tudor Place
Halloween is "spooktacular" at Tudor Place! Wear your costumes (optional) and follow meandering paths to find treats (not tricks!) in every corner of the enchanting North Garden. Enjoy pumpkin-decorating and other crafts, face painting, and outdoor games amid lovely autumn color. Register online ahead of time.
Oct. 29– 11:00am-1:00pm- Friends of Forest Hills Playground Halloween
The neighborhood looks forward to this party every year, and this year's event features Abracadabra Alex, our famous costume parade, a bake sale and pizza from Armand's. The proceeds from the bake sale and pizza sales go toward events like this party and the summer concerts, plus playground improvements. We can't wait to see you in your amazing costumes!
Oct. 29– 12:00pm-2:00pm- Mall-O-Ween at Lakeforest Mall
Wear your costume and join for an afternoon of fun fall activities and trick-or-treating at the mall.
Oct 29– 12:00pm-4:00pm- Pumpkin Rock n Roll at Warner Circle Park
The park will be transformed into a full-blown Halloween extravaganza. Participate in a fun costume contest and parade, and enjoy family-friendly attractions including festival-style musical performances, food trucks, inflatable rides and slides and a rock wall. The main event is a derby race of Halloween pumpkins-turned-boxcars! Admission is free.
Oct. 29– 1:00pm-4:00pm- Glen Echo Fall Frolic
Fall Frolic is the Glen Echo Park Partnership's annual Halloween-themed family event. It's open to the public, and visitors of all ages are invited to the Park to explore the arts through hands-on crafts, Halloween activities, trick-or-treating and visiting open studios. It's a safe and fun Halloween event with something for everyone! For the kids, there will be pumpkin decorating and face painting ($1 fee for pumpkin; $1-$2 for face painting). All other craft activities and trick-or-treating are free! Adults will enjoy strolling through the Park's open studios and galleries, including Glen Echo Pottery, the Art Glass Center, Photoworks, Yellow Barn Studio & Gallery, and more. The celebration will conclude at 3:30 with a costume parade through the park.
Oct. 29– 1:00pm-4:00pm-  6th Annual Little Goblins Parade
We can't wait to see Logan and DuPont Circles' cutest little goblins for an afternoon of family fun! Please feel free to dress you dogs as well and bring them along for the parade–just note, unfortunately, they are not permitted at Stead Park but we'd love to have them during the parade through Logan Circle. This year we'll welcome back some of our best entertainers and we've added a few new forms of entertainment as well. Here's what you can expect at the parade and the post-parade festivities (immediately following at Stead Park at 2PM): Blue Styles Brass Band (a NOLA style 2nd line band), Stilt Walker, Juggler, Brazilian Dancers, CMI Kidz Dancers, Bridgette Michaels Guava Jelly Band, Super Soccer Stars, Halloween cookie decorating station via Par LeJeune fancy foods, Caricature Artist and a DJ.
Oct. 29– 4:00pm-8:00pm- Haunted Garage and Day of the Dead Festival at Oyster Adams Bilingual School
Join us for a walk through the haunted garage and for traditional Day of the Dead activities such as decorating sugar skulls.  Wear your costumes for a costume parade with prizes awarded for the best in many categories.  Bring a cake for the spookiest cake contest which will be followed by a cake walk. Additionally, there will be an inflatable obstacle course, a movie at 6:00pm, pumpkin painting, a fortune teller and face painting.  Ticket price: $10/child over 2 years of age; concessions purchased separately. Location: Oyster Bilingual School garage at 2801 Calvert St NW.
Oct. 29 (various times)- 3rd Annual Pumpkin Hunt at Lee-Fendall House
Alexandria's ghosts and goblins will fill the Lee-Fendall House garden with hundreds of colorful toy-filled Halloween pumpkins for local children to discover. Other activities include crafts, refreshments, spooky stories, and a costume parade. All children of elementary school age or younger are eligible to participate in the Halloween Pumpkin Hunt. Older children and adults are welcome to enjoy all other activities. Tickets are available for sale online.
Oct. 29– 3:00pm-5:00pm- Rollingwood Neighborhood Halloween Party at The French International School
PARADE led by Chevy Chase Fire Truck at 2:30pm. (meet at Leland & Summit). Join us for our annual neighborhood tradition! Live music, bounce houses, photo booth, face painting, crafts, games, food and more. Purchase tickets online or at door.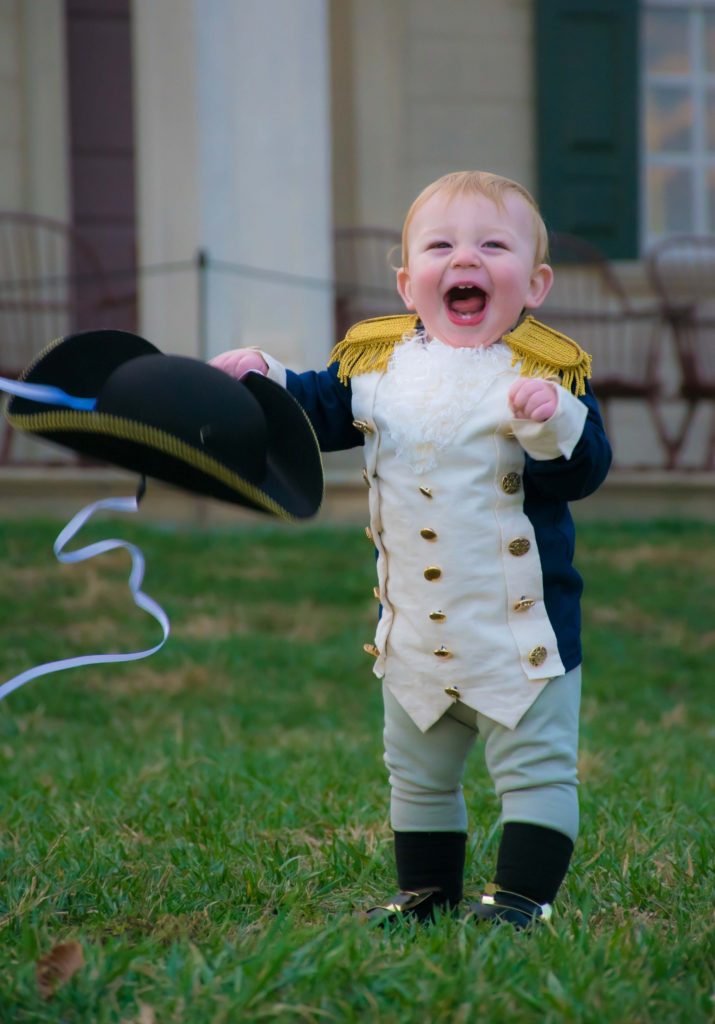 (Photo: Trick-or-Treating at Mount Vernon)
Oct. 29-31– 3:30pm-6:30pm- Trick-or-Treating at Mount Vernon
Participate in a special scavenger hunt, take a wagon ride on the 12-acre field, and create a boo-tiful Halloween craft in this unforgettable evening. Come and see wool carding, spinning, and fish net making in the historic area before greeting "Martha Washington" on the piazza of the Mansion. In order to burn off all the extra excitement, try 18th-century dancing in the upper garden. Historic chocolate-making demonstrations and chocolate tastings will take place. A children's costume parade around the Mansion will begin at 5 p.m. and prizes will be awarded for most fang-tastic "George" and "Martha" costumes! Trick-or-Treating at Mount Vernon takes place rain or shine.
Oct. 30– 2:00pm- 20th Annual Del Ray Halloween Parade
Don your best Halloween costume and march in the 20th Annual Del Ray Halloween Parade, which historically has attracted thousands of participants. Awards will be given for Best Pet Costume, Best Decorated Business, Best Decorated Home, and Best Decorated Stroller. Awards will be presented in a brief ceremony after the parade, along with refreshments and goodie bags for the children. Adults, children and dogs are all welcome to join and for free.
Oct. 30– 3:00pm-5:00pm- Busy Bees Not So Spooky Halloween Party
Dress up in your awesome costume & join us for our 2nd "Not So Spooky Halloween Bash!" Unparalleled fun in the playscape, followed by a lil' parade leading to our party room, where each child will choose a pumpkin and a kit to turn it into their own masterpiece! Top the fun off with cupcakes and milk! Oh wait, there's more: There will be 3 BuzzyPasses waiting to be found. One FREE birthday party to the BEST FAMILY COSTUME!
Oct. 30– 3:00pm-6:00pm- Volta Day
Oct. 31– 2:00pm-6:00pm- Spy Fright at International Spy Museum
Go deep undercover this Halloween at the Spy Museum where spooks of every kind will be on the prowl. Spend the scariest night of the year at the place where disguises aren't just for Halloween! Everyone is invited to arrive in disguise. Acclaimed professional make-up and disguise artist, Roger Riggle, will be on hand to teach the tools-of-the-trade necessary to transform guests in preparation for a night of tricks and treats. Demonstrations are free-of-charge and include quick disguise applications meant to help guests create their own undercover masterpieces. This is a FREE EVENT! The Spy Store is chock full of fun and unusual Halloween Disguises including: moustaches, glasses, hats, tees & more!
Oct. 31 — 2:00pm-6:00pm- Trick or Treat with the Boo-tiques!
Start trick-or-treating early and stop by the dozens of shops of the Old Town Boutique District dishing out treats to goblins and ghouls of all ages!
Oct. 31– 4:00pm-6:00pm- Spooktacular Trick or Treat along Connecticut Ave
Sponsored by the businesses along the Avenue. Kids can safely walk up the street "trick-or-treating" as the businesses are set-up outside. Starting at Livingston St and going up towards Chevy Chase Circle.
Oct. 31– 5:00pm-7:00pm- All Hallows Eve Party at Chevy Chase Community Center
Wear your best costume and join us and The Metropolitan Police Department's 2nd District for a frightfully fun evening of games, temporary tattoos, goody bags, snacks and treats. A Photo booth will also be on site. The party is free and open to all ages, young and old.
Work in progress——

Pre-sale tickets sold out— Purchase tickets in person AuduBoo! at Woodend Nature Sanctuary
Join us for a family-friendly, nature-themed Halloween! Walk the woods at Woodend Nature Sanctuary and enjoy
animal encounters and treat stations along well-lit trails. Afterwards, come inside the historic mansion for refreshments and visit craft & activity stations. Costumes not required, but encouraged!
No details yet— Rosedale Pumpkin Carving Party
Bring your blankets and pumpkins. Rosedale will provide all the child-safe carving tools, plastic gloves, and tons of designs to make your Halloween pumpkin super special!
Want to donate the candy from trick-or-treating or the extra candy in your bowl? Kool Smiles presents Operation Troop Treats. Bring your Halloween candy to any Kool Smiles dental office beginning Friday, Oct. 28 through Saturday, Nov. 5. You don't have to be a current patient to participate! For every 25 pieces of candy you donate, Kool Smiles will give you a toy! Through Kool Smiles' partnership with Operation Gratitude, the donated candy will be sent in care packages to our brave men and women serving in the Armed Forces overseas to remind them of home sweet home.
Celebrations after Halloween–
Nov 7– 1:30pm-3:30pm- Halloween Workshop presented by The French Academy at The Baptist Church of Chevy Chase
Let's celebrate Halloween in French. Funny witches, nice monsters or other vampires are all welcome.
We have prepared various activities for the children no matter their French level: crafts, scary stories, creativea acting… You can bring your costume too!