It doesn't have to be summer for me to get a scoop (or two). But with the weather we are having, all of us need a place to head to for a quick cool off.  There's nothing like a good scoop of ice cream or an ice cold popsicle.
Did you know Maryland has nine dairy farms that offer fresh, delicious on-farm ice cream? Together, they make up the "Maryland's Best Ice Cream Trail." Visit each creamery and get a trail passport stamped to be named Maryland's Ice Cream Trail Blazer! Sounds like a delicious summer bucket-list item.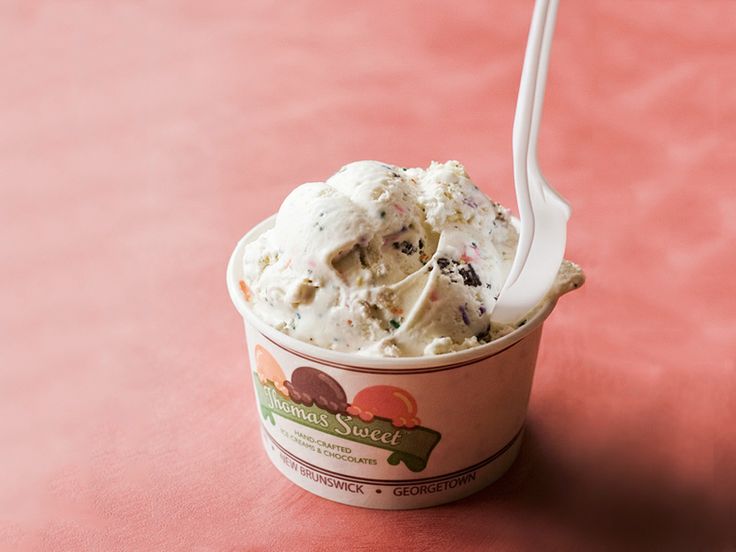 Ice Cream Jubilee
301 Water St SE, Washington Navy Yard, DC
1407 T St NW, Washington, DC
I found out about ICJ because of the mouth-watering Instagram photos everyone posts and then I realized you can order from UberEats! The best flavors come from the best ingredients.  They use only all-natural cream and milk from a local creamery, just 50 miles from our scoop shop in Washington, DC.  and are proud about the small-batch technique – just a few gallons at a time – allows to create the highest-quality product and the freshest flavors.
Millie's
4866 Massachusetts Ave NW
Brought to you by the owners of Surfside, Jetties, etc. Walk up to an outdoor ice-cream stand (attached to the take-out hut) and grab delicious scoops.
Class 520
4941 Elm St. Bethesda, MD
5 Dawson Ave. Rockville, MD
The very first Thai-inspired ice cream establishment opening in the state of Maryland. Handcrafted rolls made with no preservatives or stabilizers, so you know it's fresh. (Pictured below from Jo. C on Yelp)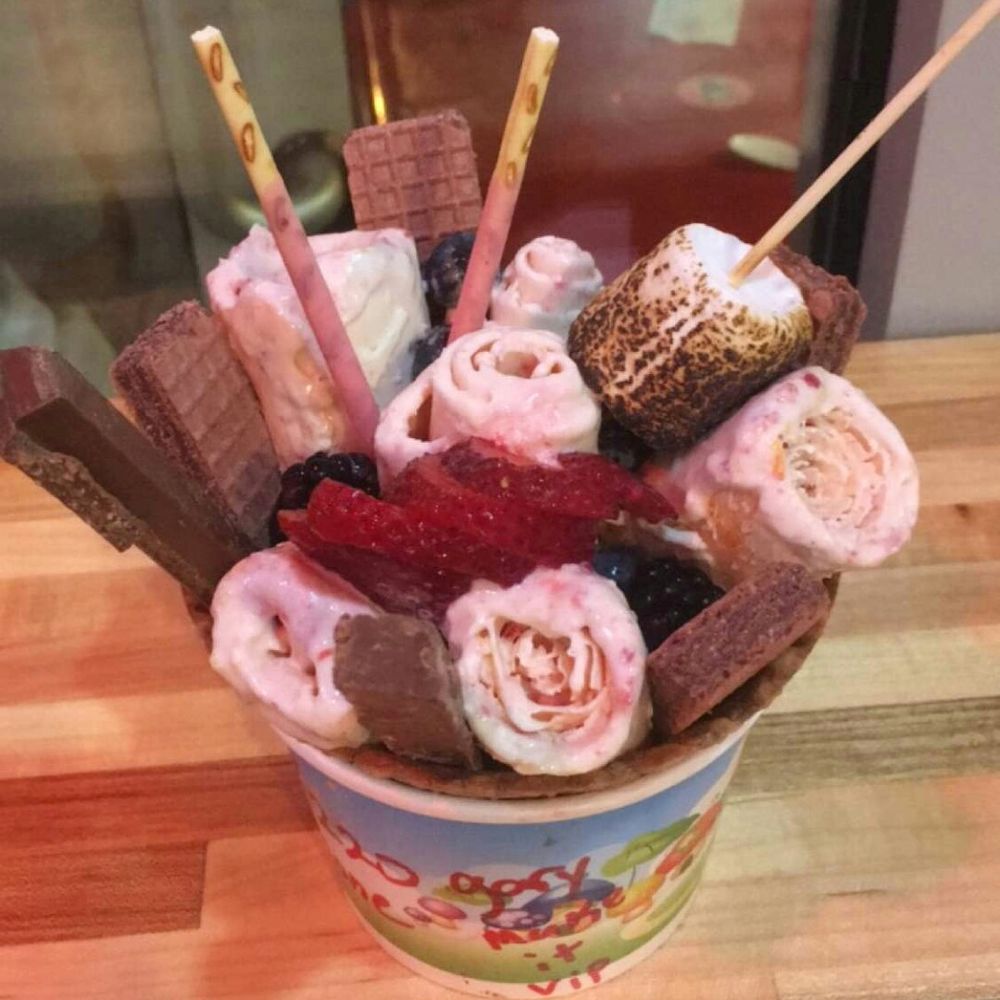 Broad Branch Market
5608 Broad Branch Rd. NW Washington, DC 20015
Broad Branch Market is an independent, community-focused market located in Chevy Chase, DC and happens to be within walking distance of my house! It's a child's dream come true. They have scoop it yourself candy, slurpees, hand-scooped ice cream to choose from and a freezer full of ice cream to choose from.
Nicecream Factory
2831 Clarendon Blvd, Arlington, VA
726 King St. Alexandria VA

Handcrafted ice cream is our passion. We start our process by combining fresh milk and local ingredients from nearby farms. Using our freezing agent, liquid nitrogen, we freeze the ice cream on the spot in front of our guests, creating the freshest handcrafted cup of ice cream you can get.

Larry's Ice Cream
1633 Connecticut Ave Washington, DC
This family business, open since 1985, is well-known for the owner's surly demeanor and delicious, homemade ice cream. With classic flavors like cookie dough and unique flavors like Key West chocolate, there's something for everyone here.
Thomas Sweet
3214 P St NW Washington, DC
This extensive sweets shop is complete with homemade fudge and chocolates, freshly baked pastries and paninis—in addition to ice cream. The specialty here is the one-of-a-kind 'blend ins' with homemade ice cream. It's not a place for the indecisive as they have a chalkboard full of flavors like peanut butter chip, vanilla cherry and our favorite, coffee Oreo. Keep in mind that the kiddie-sized cup is very large—about 2 scoops of ice cream.
The Dairy Godmother
2310 Mt Vernon Ave Alexandria, VA
This summer, you'll find some exciting new additions at this custard shop. Stick with what you know and get Wisconsin-style frozen custard in vanilla or chocolate every day, or try the flavor of the day. Tollhouse cookie and toasted almond are both on the schedule; see all the upcoming flavors of the day here. They'll also be offering Exotic Ice Pops this summer along with Frozen Custard Cake and Puppy Pops—a treat for your dog!
Moorenko's Ice Cream
8030B Georgia Ave Silver Spring, MD
This ice cream brand, which is sold around the NE corridor, is made right here in D.C.! They even have a small shop where you can go for freshly made, hand-crafted ice cream. They've got the classic flavors as well as some unique flavors like Guinness, Rice Pudding and Cotton Candy Gummy Bear.
Captain Cookie and the Milkman
2000 Pennsylvania Ave. NW
What started as a food truck serving milk and cookies and ice cream sandwiches, now has 3 food trucks you can see schedule locations here. For those of us who can't make it to a truck stop, there is an actual location. They also deliver!
Jetties
5632 Connecticut Ave NW, Washington, DC
4829 Fairmont Ave Bethesda, MD
1609 Foxhall Rd NW, Washington, DC
701 8th St NW, Washington, DC
1921 I St NW, Washington, DC

Serving Gifford's ice cream, Jetties is not just an ice cream shop, but also well-known for delicious sandwiches and salads. It's the perfect place to grab lunch and a scoop for dessert, with the option of adding toppings like sprinkles and crushed Oreos to your cone.
Also, check out these other establishments in our area–

Sfoglina: Italian Soft Serve Gelato: Your Choice of Tahitian Vanilla & or Strawberry Sorbetto. Sounds boring but I promise you will want to go back the next day for another!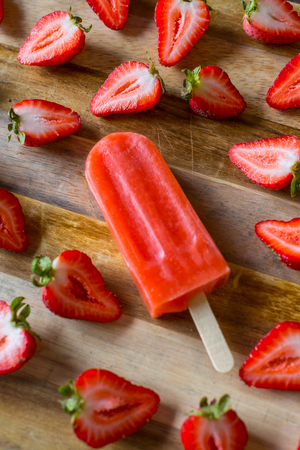 And for those who enjoy a nice, cold popsicle we didn't forget you–
Pleasant Pops
1781 Florida Avenue NW, Washington, DC 20009
731 15th Street NW, Washington, DC 20005
All original recipes made with fresh ingredients. Flavors rotate constantly as they run out. To name a few; Can also be found at various Farmer's Markets and Food Trucks, check site.
Whim Pop
Various farmers markets

Whim Pop integrates flavors of the world on a healthy, fresh and cool environment by creating unique delicacies in a variety of exotic flavors and presentations.
Whim Pop is your answer for that unexplained desired of something unique and guilt free! Can also be found at various Farmer's Markets, check site.