One of my favorite parts about summer in Washington, DC are the (mostly) free, outdoor concerts you can find. A few summers ago we took a sporadic drive to the Mall, walked around, played some ball by the reflecting pool with our then three year old and walked towards the Capitol where the U.S. Air Force Band was performing a free concert. A huge crowd was gathered on the steps and in chairs taking in the gorgeous evening and patriotic tunes. I had no idea they performed for free and for the public on random evenings. This post will help you take advantage of some great music that will help you relax after a long day and see a bit of our city while doing so. Also, included are family focused shows at some favorite venues.  Get out and enjoy the lighter evenings, let your kids stay up a little longer and enjoy the music our city offers. 
The Yards Park Friday Night Concert Series
The free Capitol Riverfront Friday Night Concert Series is back for its 6th Season, this year on the Great Lawn of Yards Park! Every Friday night this summer, come to Yards Park to relax and enjoy the river view, fantastic bands, food and beverage, and a large variety of great restaurants within a 5-minute walk from the park. Family-friendly lyrics and grassy open space make this an enjoyable event for adults and kids alike. Kids can splash in the water and have a blast!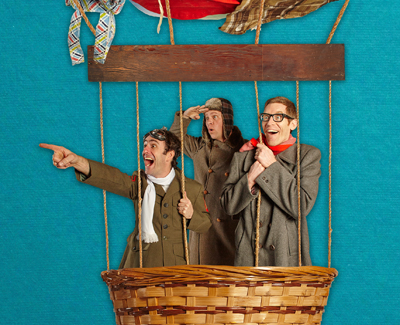 Strathmore's Backyard Theatre for Children
(Parking for Backyard Theater is in the Mansion lot on a space-available basis. Enter the lot at 10701 Rockville Pike.)
A summertime favorite, Backyard Theater for Children returns with enough music and magic to thrill kids and parents alike – all outdoors under a big tent! Each artsy experience comes at a wallet-pleasing price of only $8 each ($7.20 Stars Price) and free for ages 2 and under. Bring blankets and a bag lunch as they bring families together for concerts that are entertaining, educational and perfect for all ages!
July 7: Moona Luna
July 14: Recess Monkey
July 21: The Uncle Devin Show
July 28: Eat Snacks Live
Strathmore also has Free Summer Outdoor Concerts
Friday Night Live Concert Series
(Rockville Town Square- On the Dawson's Market Stage)
Kick off your weekend with live entertainment, great company, and fantastic food, wine and beer from the restaurants at Rockville Town Square from 6:30-9pm 
on the Dawson's Market Stage. Music ranges from 80's and 90's cover bands, funk and soul, roots rock blues and southern rock. Check website as Kids Nights are on Wednesdays.
Jazz in the Sculpture Garden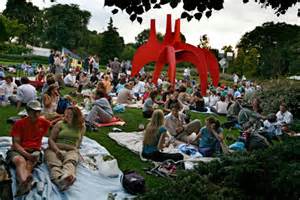 (7th Street and Constitution Avenue, NW)
The Jazz in the Garden Series begins its 15th season in May. The free concert series features jazz artists performing a wide variety of styles—salsa, blues fusion, xylophone, Afrofunk, and more—every Friday evening from 5:00 to 8:30 in the National Gallery of Art Sculpture Garden. You can purchase food and adult beverages or bring your own picnic (but no adult bevvies are allowed in).
National Memorial Day Concert
(West Lawn of the U.S. Capitol)
Sunday, May 29, 2016, 8 p.m. Gates open at 5 p.m. PBS sponsors a free concert on the West Lawn of the U.S. Capitol. The concert features actors Joe Mantegna and Gary Sinise, and other guest artists along with the National Symphony Orchestra.
Wolf Trap Children's Theatre-in-the-Woods
(1551 Trap Rd. Vienna, VA 22182)
Performances range from music and dance to puppetry and storytelling—interactive, educational, and fun. All shows are about an hour long and are perfect for children ages 4 and up.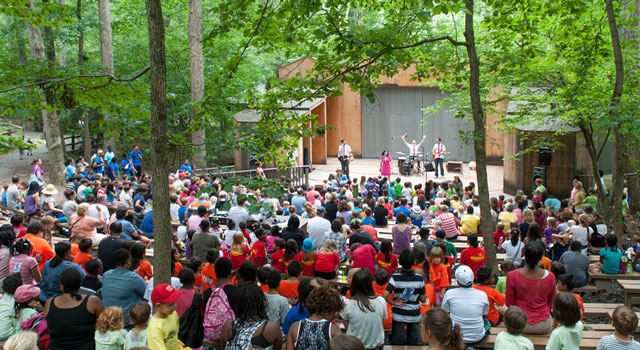 Rockin on the Riverfront
(355 Water Street SE, Washington DC 20003)
Break out your blankets, picnics, and dancing shoes at The Yards Park! 2016's Friday Night Concert Series. Concerts begin at 6:30pm and end at 8:30pm. Kids can splash in the fountains before or during so bring towels. Food and drink for purchase or bring your own.
Downtown Live!
Live music every Friday night at 6:30pm on the Fountain Plaza.
Carter Barron Ampitheatre
(3545 Williamsburg Lane, NW Washington, DC 20008)
Poetry, music and movies will be featured all summer long. All shows are free and based by first come first served.
Wolf Trap National Park
(1645 Trap Rd, Vienna, VA 22182)
Sunday, May 29, 2016, 8:00 p.m. Summer Blast Off! "The President's Own" United States Marine Band will launch Wolf Trap National Park for the Performing Arts' summer season with a program of concert band favorites. A fireworks display will follow the concert. The Filene Center gates open at 6:30 p.m. Arrive early because the park closes once capacity is reached.
Rock the Row
(1201 South Joyce St. Arlington, Va. 22202)
This summer get ready to get down at the Pentagon Row concert series. With new bands and a  new plaza it's going to be better than ever. Thursday Nights, from 7:00pm-9:00pm, July 14 – Aug 25.
A Capitol Fourth
(West Lawn of the U.S. Capitol) 
More details to follow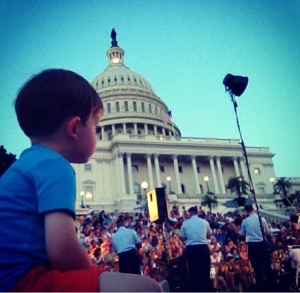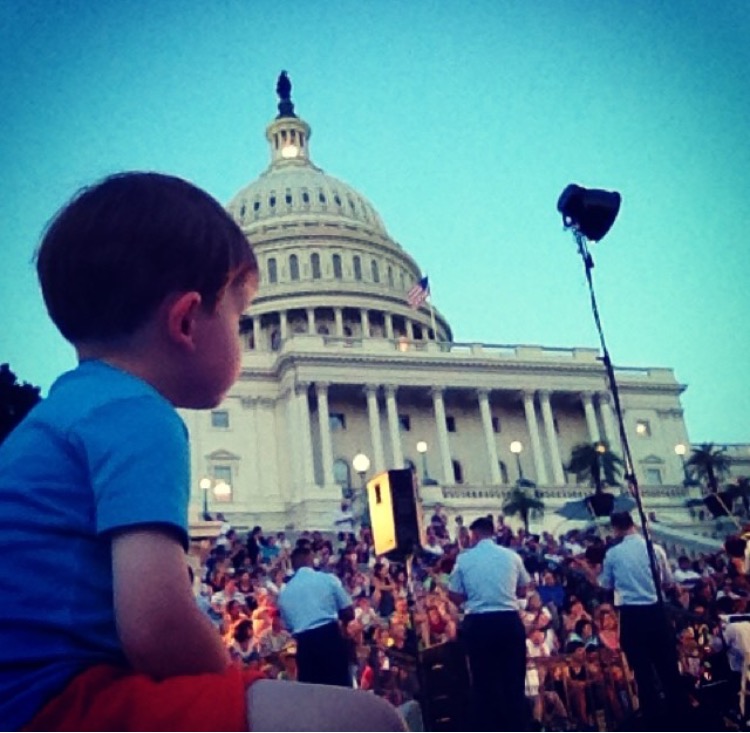 Live military band concerts. Concerts are free and no tickets are required unless noted.