This 2018 Summer camp guide is sponsored by Beauvoir Summer Camp.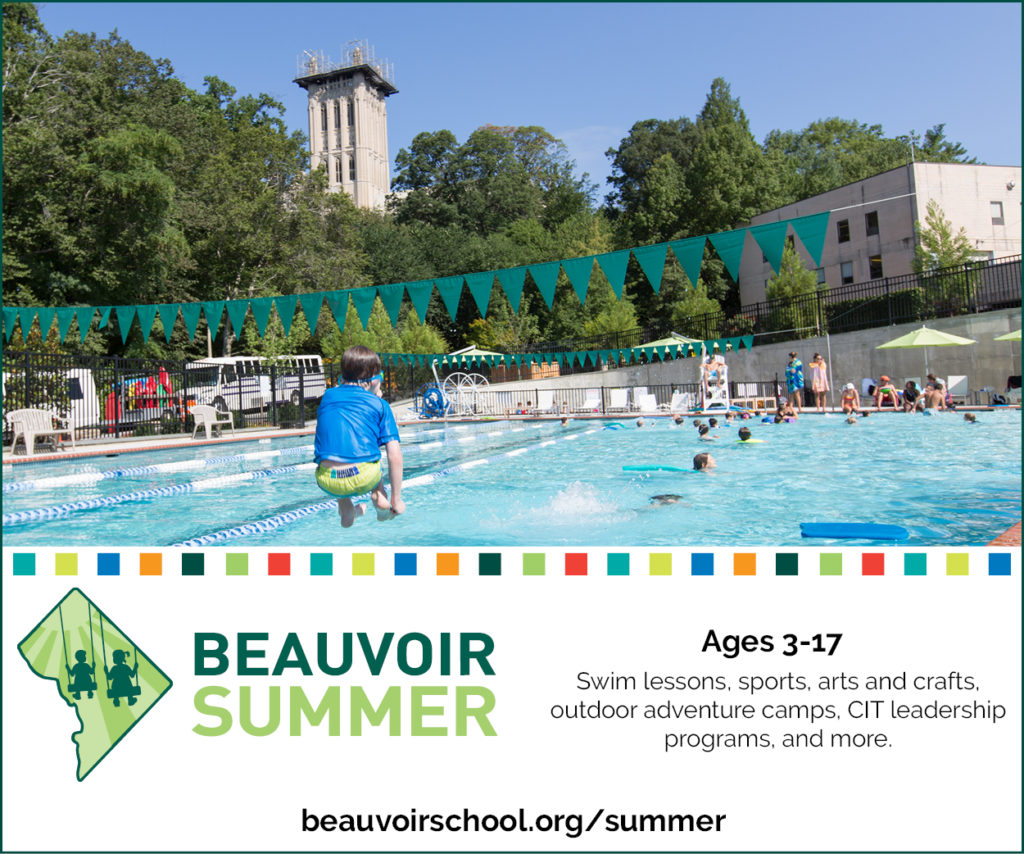 Beauvoir Summer
(3500 Woodley Rd, NW, Washington, DC 20016 on the National Cathedral grounds)
Located on the grounds of the Washington National Cathedral in Washington, D.C., Beauvoir Summer strives to create an inviting, collaborative and warm community for campers during the summer months. Beauvoir Summer offers camp programs open to Beauvoir and non-Beauvoir children ages 3 to 11 years old over four sessions that run a total of seven weeks.  Whether registering for one session or all summer, exciting activities include field trips, swimming lessons, outdoor adventure programs and specialty camps. Beauvoir Summer also offers a counselor-in-training program for students grades 6 to 12. Through a variety of offerings, Beauvoir Summer makes it easy for you to create a schedule that works best for your family, offering before and after camp care programs as well. Simply put, Beauvoir Summer can accommodate all of your summer camp needs!

Summer Safari Zoo Camp at The National Zoo
(3001 Connecticut Ave NW, Washington, DC 20008)
Each of the Summer Safari programs explores the lives, habitats, and conservation of animals around the world. Week-long sessions include exciting hands-on activities, lessons, craft projects, science experiments, and walks through the Zoo (but no direct contact with animals). Camp sessions are grouped into four grade levels: K-1, 2-3, 4-5, and 6-7.
Spy Camp at the Spy Museum
(800 F Street, NW Washington, DC  20004)
Another sneaky camp that sounds like so much fun and full of thrills! Somewhere deep inside the Museum an elite group of recruits is lurking in the shadows preparing to take on top secret missions. No one really knows who they are, or for that matter, what they're really up to. Now it's your children's turn to join their ranks. Each day is filled with top secret briefings and activities that will put spy skills and street smarts to the test. Aspiring Spy recruits will hone their tradecraft, learn from real spies, and hit the streets to run training missions. Develop a disguise for cover, make and break codes, discover escape and evasion techniques, create and use spy gadgets, uncover the science behind spying—all of this and more awaits young recruits! Ages 10-13.
National Building Museum Summer Camp
(401 F Street NW Washington, D.C. 20001)
One and two week sessions for campers entering 2nd-7th grade. Experience the world we build for ourselves in new ways and with hands-on activities and projects in one of our favorite buildings in DC! Attend one, two, or all of the unique sessions of, full-day summer camp at the National Building Museum. Campers will enjoy design challenges, exploring the Museum, and more!
Meadowbrook Stables
(820 Meadowbrook Lane Chevy Chase, MD 20815 )
Meadowbrook Stables takes pride in turning out confident, independent and correct riders, with a strong focus on good horsemanship. Our summer programs allow children to experience first hand the benefits of riding and caring for animals. These educational programs provide students with riding instruction, and practice opportunities, as well as hands-on activities to learn safe horse handling, grooming, and the rules and protocol of equestrian competition. We offer week-long camps for ages 6-16. With a wide variety of summer programs to choose from, both children and adults will find something to meet their needs and prosper!

Lowell School Camp
(1640 Kalmia Rd NW., Washington, DC. 20012)
Their respectful and caring atmosphere encourages campers, rising PreK-grade 9, to grow in self-awareness and confidence, while strengthening their cooperation and consideration for others. They have an expansive campus with fields, surrounded by towering trees, provides generous space for games, sports, exercise, and water play. Campers explore and investigate plant and animal life in a spring-fed stream, a tributary of nearby Rock Creek. The four-lane indoor pool, fully equipped technology center, three art workshops, library, and large gymnasium are also available to campers. 
Sidwell Summer
(3825 Wisconsin Ave NW, Washington, DC 20016)
(5100 Edgemoor Lane Bethesda, MD 20814)
With an array of programs for campers and students Age 3 – Grade 12 throughout June,  July, and August, they have something for everyone. This camp has two locations to choose from with a variety of camps; day camp, sports camp and academic camp.
Bricks4Kidz
(1130 6th St. NW, Washington, DC 20001)
Camp kicks off the morning session by grouping up the kiddos by age (two age groups: 4-6 year olds and 7-12 year olds) then the fun begins. Campers work in pairs and build projects through Bricks 4 Kidz lesson plans and make creations of their own during super fun free play periods. The afternoon gets "challenging" as the campers enter "Challenge Island", that provides unique challenge-based programs designed to foster critical and creative thinking skills, problem solving methodology, and core STEM (Science, Technology, Engineering, Mathematics) principles in children.
Arts on the Horizon Summer Camps
(1100 Wythe Street, #26093  Alexandria, VA)
From superhero to construction, this arts inspired camp has a session that is sure to appeal to your child. They offer one week, half day sessions. Ages 3-6.

(Photo: Imagination Stage)
Theatre & Arts Camps:
Adventure Theatre Camps
(7300 MacArthur Blvd., Glen Echo, MD. 20812)
Your child will work alongside accomplished D.C. area theater professionals and teaching artists during daily rehearsals in dancing, singing, and acting. With props and costumes, singing and scene-work, your child's experience will culminate in a performance of a full-scale, youth-appropriate main stage show for friends and family. Grades 1-12.
Little Loft
(7007 Carroll Ave., Takoma Park, MD 20912)
Join us for summer camp – an immersive art experience with new camps this year! Weekly summer sessions and small groups offer a haven for creative kids.  A K-3 camp with a theme each week, a Preschool camp and even a sewing camp for Tweens.
The Theatre Lab School of the Dramatic Arts
(733 8th Street NWWashington, DC 20001)
The Theatre Lab's summer camps are fun, high-energy programs that allow young people to fully engage their imaginations as they experience the thrill of creating live theatre. Acting Camp for children ages 6-10 and Summer Acting and Musical Theatre for children ages 11-13. Campers participate in a wide variety of theatre activities—including improvisation, scene study, storytelling, creative writing, group singing, and mime.
Meadowlark Guitar and Ukulele Camp
McLean Project for the Arts (MAP)
Art in Motion via UpCycle/Local Motion
Levine Summer Music & Arts Day Camp

(Photo: Language Stars)

Language Camps:

CommuniKids
Immerse your child in a second language through fun activities that include: cooking, music, dance, art, and stories from a world country! Every week children explore a country through games, songs, crafts and arts while learning a language! Children spend their day engaging with peers, playing, learning, and developing skills that help them become global citizens! In Falls Church choose from Mandarin, Spanish or French experience. In DC we will take them only to Spanish speaking regions.
Language Stars
In an interconnected world, it's never too early to get your young learner started in a world language  program. Language Stars provides dynamic, play-based foreign language summer camps and summer classes taught by native-speaking teachers. Our kids' summer camps and classes are available for children ages 12 months to 12 years in 6 different languages, including: Spanish, Mandarin, French, Italian, German and Arabic.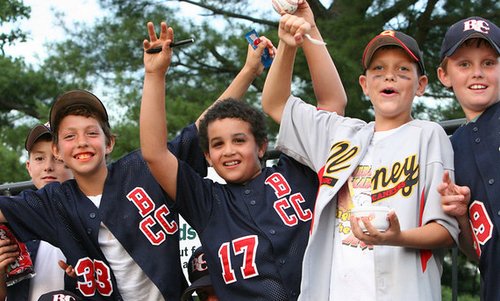 (Photo: Baseball Camp at Bethesda Big Train)
Other camps around the Washington, DC area: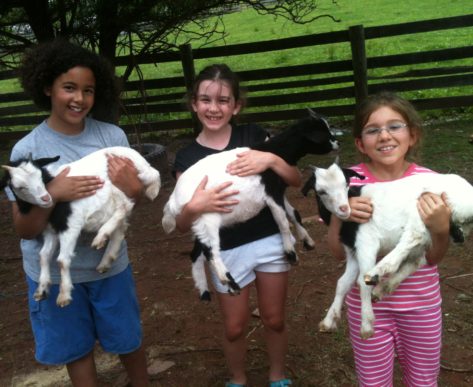 (Photo: Calleva)
Need to sign-up for just one week of camp? Thanks to some locals parents, here's a great list of drop-ins and places that will allow you to sign up a week at a time.
Calleva

is an outdoor camp that 

has buses that pick up and drop off close-in and offer a variety of camp experiences
Brit-Am is a local soccer club that also has summer camps
Headfirst summer camp is very popular with various themes with two locations

Landon camp is for boys and girls and provides bus transportation from a few neighborhoods