2016 Summer Camp Guide is available!
2015 Summer Camp Guide is available!
Yes, it's still freezing outside, but most summer camps are currently accepting registrations. And knowing this area, the best ones will be out of space before spring even hits. To get you prepared, we've put together a guide to give you the scoop on Washington, DC area camps for summer 2014. We've highlighted a few that are worth a look and included links to others at the bottom of the post.  As always, add to this post by commenting with your own suggestion– first or second hand. Here's to a fun summer!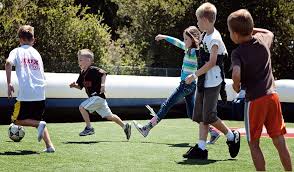 Steve and Kates Camp
(Grace Episcopal School- 3601 Russell Road, Alexandria, VA 22305)
(Georgetown Day School- 4530 MacArthur Blvd, Washington, DC 20007)
If we could go to camp, this may be our first choice. Inflatable slip n slide, carnival on the last day and kid sized inflatable stadium for sports. This camp gives campers a choice where they step into a world packed with possibilities. One camper dives deep into stop-motion animation. Another discovers a passion for dance. Or chess. A camper becomes engrossed in making the perfect bread. Or developing Leo Messi-like touch on the soccer pitch. K thru 7th grade in the fall.

Levine Summer Music & Arts Day Camp at Katzen Arts Center at American University
(4400 Massachusetts Ave NW, Washington, DC 20016)
 This year's theme: "A Musical Road Trip – Hear America Sing". From the mountains, to the prairies, to the oceans white with foam, your child will visit the major centers of music in America. Summer camp offers top-notch instruction within a fun and collaborative environment for campers aged 3.5 – 12. Now in it's 27th year, Levine's camp offers kids an incredible musical education during each of its two, three-week sessions. 
Lowell School Camp
(1640 Kalmia Rd NW., Washington, DC. 20012)
Their respectful and caring atmosphere encourages campers, ages 3 to 14, to grow in self-awareness and confidence, while strengthening their cooperation and consideration for others. They have an expansive campus with fields, surrounded by towering trees, provides generous space for games, sports, exercise, and water play. Campers explore and investigate plant and animal life in a spring-fed stream, a tributary of nearby Rock Creek. The four-lane indoor pool, fully equipped technology center, three art workshops, library, and large gymnasium are also available to campers.  [Read more…]